Operating since 2009
Niagara Parks Commission Certified Guides
Members:
Niagara on the Lake Chamber of Commerce
Niagara Historical Society
Niagara on the Lake Horticultural Society
Friends of Fort George
TripAdvisor Certificate of Excellence 2014, 2015
About Old Town Tours
Old Town Tours is locally owned and operated by residents of Niagara-on-the-Lake. We love living in town and sharing the experience with visitors who come to enjoy the wineries and theatres of Niagara-on-the-Lake. We're not here to create a tour company empire but to share the richness and beauty of the town with those who have come to visit with us.
Our tours are designed to explore the rich history of the people, places and events that have formed this unique part of Canada over hundreds of years. Our friendly and knowledgeable guides won't overload you with dates but will paint a picture of how the town developed and how it played a central role in the history of the country and it's relationship with our southern neighbour, the United States.
Most of all we want our guests to enjoy their visit to Niagara-on-the-Lake and to leave us with a better understanding of the town's important place in the nation's history.
Parking in Niagara on the Lake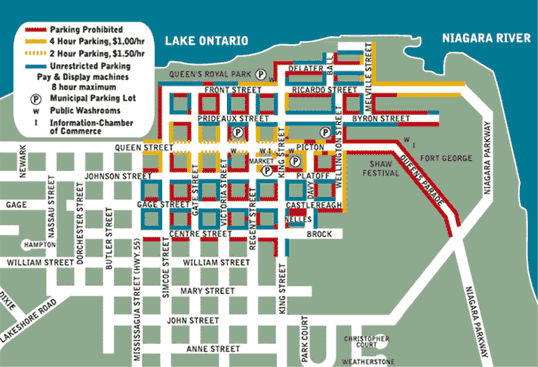 Parking in Niagara on the Lake is allowed and metered on certain streets in town as well as in designated parking lots.
How to Get Here
FROM TORONTO
Go summer in Niagara – GO's seasonal excursion train service between Niagara Falls and Toronto is a great way to go away this summer. In addition to year-round bus service, passengers can take GO's weekend trains between Toronto and Niagara Falls starting June 23 until September 3. GO Transit is providing GO Bus shuttle between St. Catharines and Niagara-on-the-Lake. Visit GO for more info.
FROM WINDSOR/DETROIT
Take highways 401 and 403 to Hamilton, Ontario, and join the QEW toward Niagara. Then follow the same route as the traffic from Toronto (see above).
FROM NEW YORK, OHIO OR PENNSYLVANIA
Cross the Niagara River into Canada at Buffalo (Peace Bridge), Niagara Falls, or Lewiston, NY. You can take the QEW to Regional Road 55 (exit 38) if you like, but we recommend the Niagara Parkway instead. It takes a little longer, especially in the busy summer months, but it's a beautiful drive – down the Niagara River gorge, past orchards and vineyards, right to the main street of Niagara on the Lake.
Line-ups at border crossings can cause hour-long delays, and traffic on the QEW from Toronto is often quite heavy. Please allow at least two hours for your drive from Toronto. For border wait times, visit www.cbsa.gc.ca or contact the Niagara Falls Bridge Commission at 1-800-715-6722 (press option 2) for traffic conditions on bridges at Queenston – Lewiston, Niagara Falls and Buffalo – Fort Erie, Peace Bridge.
At other times when there is no bus transit or train service reaching Niagara on the Lake and if don't have access to a car, you can take a bus or train into Niagara Falls, and then proceed by cab or shuttle to Niagara on the Lake.
The cost for a cab ride to go from Niagara Falls to NOTL, or vice versa, would be approximately $35 CAD, one way.
When needing a cab within Niagara on the Lake, add a 25 minute buffer time to when you need a cab since any cab has to come from St. Catharines or Niagara Falls (Niagara Classic Cabs no longer provides any cab service).
What's Nearby via Trip Advisor